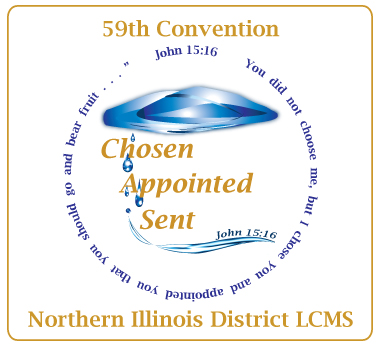 Friday and Saturday, March 9 and 10, 2018
Location: Concordia University Chicago, 7400 Augusta Street, River Forest, Illinois
Times: Convening Friday 9:30 a.m. to 5:30 p.m. (President's Reception immediately following) and Saturday 9:00 a.m. to 3:30 p.m.
The LCMS Northern Illinois District will be electing a new president on March 9, 2018, in its first order of business at the 2018 NID Convention. The nomination process opened on April 1, 2017. A candidate for district president is nominated by an official vote of a congregation in the district. An ordained minister must be nominated by at least five congregations to be eligible for the ballot.
But that's just one of many offices that will be filled at the 2018 NID Convention. Find all forms and descriptions for nominating ordained ministers, commissioned ministers and lay members of NID congregations to various positions below. The nomination process ended September 30, 2017.
The convention delegates are one called pastor and one lay member selected by each district congregation. Delegates may be submitted up until the convention, but congregations are asked to complete this process by September 30, or as soon as possible.
2018 ONLINE CONVENTION WORKBOOK
Below you will find your Convention Workbook for the 59th Convention of the Northern Illinois District LCMS. Providing the Convention Workbook this way enables congregations and delegates to use computer technology to prepare for the convention.
Communications
Worship Materials
Elections
Nominations Section 4 – (Biographies)
You will likely want this section available at convention.
You can access this on your laptop or print the pages and bring them with you.
Overtures
Reports
Roster Changes
Delegates
The following is linked for you in preparation for this convention:
Cover letter from Rev. James Kellerman, NID Secretary, with instructions
NOMINATION INFORMATION:
Presidium Nominations:
District President Nominations:
Vice President Nominations (by region):
East Region VP Nomination
Rev. Steven Anderson, Gloria Dei Lutheran Church, Chicago
North Region VP Nominations
Rev. Micah Greiner, St. Peter Lutheran Church, Arlington Heights
Rev. Kris Whitby, St. Paul Lutheran Church, Mount Prospect
South Region VP Nomination
Rev. Cory Estby, Zion Lutheran Church, Grant Park
West Region VP Nomination
Rev. Kenneth Krause, Mount Olive Lutheran Church, Rockford
Nominations for district president and the district's four vice presidents are made by the congregations of the district. At least five nominations are required for a name to be eligible for listing on the ballot for district president and two to be listed for vice president.
Nominations for district secretary and all other positions will be made by the Nominating Committee elected at the 2015 district convention. Circuit visitors for the new triennium are also finalized during the convention.
All nominees with full biographies will be in the Convention workbook scheduled to be on the district's website, January 1.
The lists below will show you the circuit and region a church worker or congregation will be in when the new triennium begins, June 1, 2018. These will assist you in nominating for the 2018 Board of Directors, Vice Presidents and Circuit Visitors (pastor lists are tentative based on their current situation). Anyone nominated must be a current member of an NID congregation.
Some of above forms are submitted online. If you have trouble with forms, please contact Ronda Wilmot in the president's office or call 708-449-3020.
Delegate information (PDF to print and return with signatures):
Above delegate forms should be sent to the district office: NID LCMS, 2301 S. Wolf Road, Hillside, IL 60162. Forms also may be faxed to 708-449-3026, or scanned/emailed to the president's office. Signatures are required, so if you are unable to scan them, please mail or fax them.
Deadline for the floor committee selection is September 30, 2017.
For convention overnight stays:
When you are ready to make convention hotel reservations, you may wish to use these hotel accommodations that have been reserved for the district:
Holiday Inn Express & Suites Chicago – 200 S Mannheim Road, Hillside, IL 60162; 708-544-2700.
Room Rate: $107. per day + 12% tax. Please ask for room block "NID Convention." All convention attendees are responsible for their own overnight accommodations.
Are you interested in registering as a convention exhibitor?
If you would like to be a convention exhibitor, please use the form below to submit a reservation request. Forms are due by December 1, 2017. Payment is required to secure your reservation.
Exhibitor Cover Letter
Exhibitor Registration – PDF or use PDF Fill-in Format