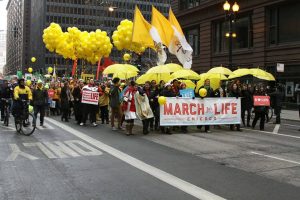 March for Life, Chicago is right around the corner: January 14, 2018.
Northern Illinois District Life Ministry is partnering with Lutherans for Life to join thousands of pro-life advocates gathering in the Chicago Loop to celebrate the sanctity of human life.
A short walk around Federal Plaza begins and ends with a line up of speakers affirming the value of life and underscoring the importance of continuing to speak out for it.
Meet us under the Lutherans for Life banner on Federal Plaza (50 W. Adams Street, Chicago) at 1:55 p.m. or skip the hassle of public transportation or parking downtown and ride our bus with us.
Northern Illinois District Life Ministry is sponsoring a round-trip bus, which will drop us off right at  Federal Plaza. After the walk, we will reboard the bus at 4:15 p.m.
The bus departs at 1 p.m. on January 14th from Trinity Lutheran Church, 1101 Kimberly Way, Lisle, IL 60532. There is a suggested donation of $10.
Call Kris Blackwell at (630) 234-1491 to reserve your seat on the bus today; space is limited.
We hope you'll join us as we walk together in celebration and observance of Love which affirms life.