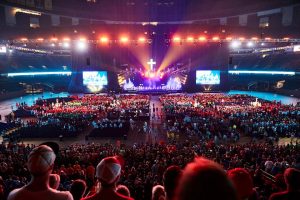 The 2019 NYG is just around the corner and the Northern Illinois District has some awesome stuff for you while you're there.
We will have viral sensation and comedian Jaron Myers perform for us after the Mass Event on Sunday night at the U.S. Bank Stadium (There is no mass event plus that night so you won't be missing anything to come see him) and we have these sweet T-Shirts for you. The Jaron Myers show is only $20 per person and T-Shirts are only $15 per person but if your group does both, save $5 and it's only $30 for both.
If you have any questions please feel free to email our district coordinators, David Meier and/or Josh Wold.
Helpful links:
Held every 3 years since 1980, the LCMS Youth Gathering provides thousands of youth and adults the opportunity to come together as a community of God'€s people to learn more about Jesus Christ, the Christian faith and their Lutheran identity. The next Gathering will be held on July 11-15, 2019 in Minneapolis, MN.
During the five days of the Gathering, youth spend time together in God's word, worship, service, and fellowship with others from across the synod. This event is organized by LCMS Youth Ministry in Saint Louis, MO. Visit their Facebook page at www.facebook.com/LCMSNYG, or their website at www.lcmsgathering.com.
Online registration is open! The Gathering Registration mailer has been sent to congregations. Information in the mailer can also be found on the Gathering website lcmsgathering.com/registration.
Northern Illinois District Gathering Coordinators Announced
Josh Wold, Immanuel, Belvidere, and Dave Meier, Immanuel, East Dundee are the LCMS Northern Illinois District's 2019 National Youth Gathering District Coordinators. They will be working with youth leaders in the NID whose youth will be attending the Gathering. Please watch for communications from Josh and Dave related to the NID events at the Gathering coming soon. In the meantime, if you have any questions you may email Josh or Dave.