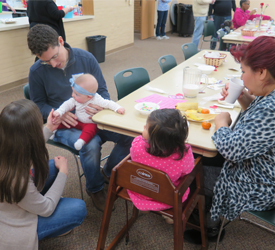 Next time you see a pregnant woman or one with a tiny baby, think about the one in three moms who will have to choose between food or diapers. Breakfast with Baby is trying to meet that need.
The LCMS Northern Illinois District has once again joined #GivingTuesday, a global day of giving, partnering with St. Paul, Lutheran Church, Mount Prospect, and their ministry, Breakfast with Baby. As in the past, the LCMS Northern Illinois District will match all donated funds dollar for dollar, up to $2,000.
Celebrated on the Tuesday following Thanksgiving, and the widely recognized shopping events Black Friday and Cyber Monday, #GivingTuesday kicks off the charitable season, when many focus on their holiday and end-of-year giving. #GivingTuesday is a global day of giving fueled by the power of social media and collaboration, occurring this year on November 28.
So, please watch for posts and updates on Breakfast with Baby on their Facebook page, www.facebook.com/newstartsnewbelievers and join us in supporting this ministry. You can help. Donate now on line or mail your check to LCMS Northern Illinois District, 2301 S. Wolf Road, Hillside, IL 60162 (note GivingTuesday).